About the
company
Rich Land Biochemical Production PLC is established for the purpose of engaging in the production of biochemical and agro-processing products. Rich Land's first processing plant, located in Bure Industry Park (411 km from Addis Ababa) is on 21 hectares of land and projected to produce 96,000 metric tons of soybean meal, 140,000 metric tons of starch, 22.5 million liters of edible oil, and 62,000 metric tons of animal feed annually. The second processing plant, located in Bahir Dar is on 52 hectares of land is currently under construction. When complete, it will have a capacity to consume 1 million metric tons of Maize producing 700,000 metric tons of starch, 20 million liters of edible oil, and 280,000 metric tons of animal feed annually.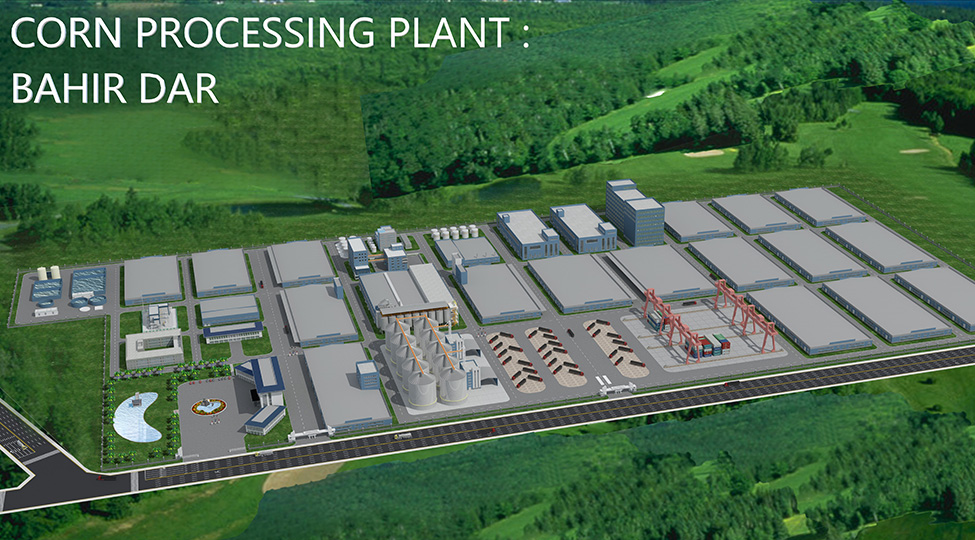 Our
Mission
We aim to set industry standards for our uncompromising Integrity, product quality, work environment and community engagement to meet and exceed the needs of our clients through efficient, productive and safe operations.
Our
Vision
To be a market leader in the agro-processing sector in Ethiopia and East Africa by providing high-quality products and best possible service to our local and international clients.
Our
Values
Integrity
We maintain the highest level of ethical standards and professionalism in our engagements with employees, clients, communities and suppliers by ensuring honesty, openness, communication, and accountability.
People
People of the organization are the source of our strength. We empower them to thrive in an atmosphere which supports continuous learning development and personal growth through detailed policies and procedures, training, and recognition of excellence.
Quality and Operational Excellence
We adhere to a strict raw material selection standard, manufacturing process and distribution that proudly provides a wide variety of top-quality products meeting and ensuring client satisfaction through constant improvement.
We utilize high-tech precision manufacturing facilities, highly efficient operational processes and management system to maintain the highest possible standard of quality, safety and health in the work place environment.
Social and Community Responsibility
We uplift the community through employment creation and capacity utilization improvement in the community by improvements in health care, education, innovation and environmental responsibilities.
We contribute to the economy by import substitution and export, aiding to bridge the gap between supply and demand in the industry, and also generating foreign currency.
Environmental responsibility
We are committed to protecting and respecting the environment through constant evaluation of environmental impacts of our packaging products, operations and facilities to make a difference for future generations by integrating environmental responsibilities and considerations into daily operations and business decision-making processes.
Edible oil
We produce Soybean and Corn edible oils catering to the tastes and cooking preferences of different categories of consumers. We locally source high-quality organic and non-GMO raw materials, and utilize modern extraction process tailored to maintain high rates of productivity, preserve quality and nutritional value while minimizing harmful influence on the environment.
Animal feed
We produce organic and non-GMO animal feed products with high levels of quality protein and digestible energy. Our meticulous control over the manufacturing process combined with finest ingredients ensures that customers are rewarded with high-quality and highly digestible animal feed products with essential nutritional values to aid in optimizing animal health and nutrition goals.
SOYBEAN MEAL
Soybean meal is the product remaining after oil extraction from whole organic soybeans. We produce and export soybean meal with high protein content, which is used in variety of forms, including animal foods, and food as protein supplement. Due to its unmatched functional properties in food applications, high digestibility, nutritional value and suitability for all ages, soybean meal can further be utilized in stabilization of emulsion, infant formulas, flours and textured fibers.
Starch
Starch is a white powdery carbohydrate extracted from corn(maize) endosperm. We manufacture and export starch derived from superior quality corn(maize). Due to its numerous characteristics, starch is widely used in food, paper, textile and pharmaceutical industries. In addition to direct use, it can be processed into various starch derivatives including glucose and other sugars.
Address
Rich Land Biochemical Production PLC
Waryt Building,
Haile Gebre Silase St,
Addis Ababa, Ethiopia

Telephone: +251 11 662 9475 -->
Email